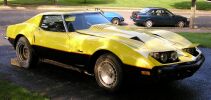 1973 Corvette Project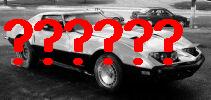 Here We Go Again!!! &nbsp(New Victim September 26, 2004)

---

Exterior

Interior
This car was CHEAP and this was my first experience in Vette buying. I did some research beforehand but, I chose to ignore most of my sensibility and go with, "Wow this is great. I can fix it".

I found a number of issues that I knew I had to deal with. First, the hood. I really think the stock 'Cowl Induction' hood is cool. I will definitely replace the 'Twin Turbo' hood. Secondly, the driver's side door drops when it opens. The passenger's side door, frozen shut. Next, the ground is muddy when I first look at the car and I can't see underneath. I do however feel the frame under the right side door and find that I can put my hand through the frame. I figured some patching of the frame was in order.

Under the hood resides some kind of motor; the tranny an automatic. I did not check any of the numbers. I did find a VIN and there is a title.

Time to get the door open. Just imagine how that musty, old basement smells on a humid, summer's day; that's the interior. Left uncovered, the car was filled with water. The parts that were not submerged were green with algae and mold.

I knew this was insane but, I felt bad for the old girl and heck it was a Cheap Corvette. So here we are again. Trying to resurrect what should be left to die....
Return 1973 Vette Main Page
Return to MZaff.com
---
Contact me:&nbspmzaff@mzaff.com


Since Oct 10, 2005

Originated Oct 10, 2005

Updated Oct 10, 2005